EC-Council Joint Statement
Litigation Notice:
In August 2008, EC-Council brought suit against Security University for IP infringement. EC-Council® and Security University are pleased to announce that they have resolved all litigation between them to their mutual satisfaction under confidential terms. Security University is not an authorized training center of EC-Council®.
The EC-Council® Certifications are provided exclusively by EC-Council® and its ATC's, Security University is not sponsored by, approved by, or affiliated in any way with EC-Council®.
---
DoD Directive 8570M1
Information Assurance
Training, Certification and Workforce Management


Q/ISP & related Certifications are pending approval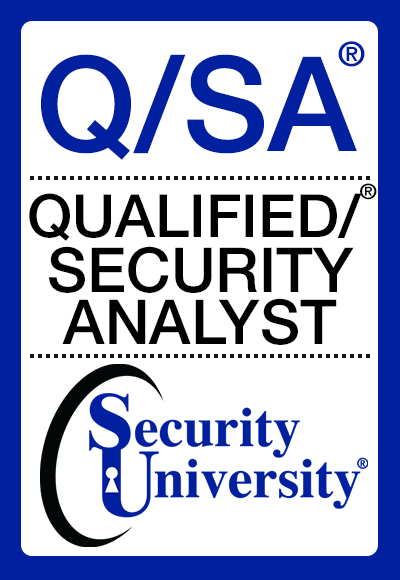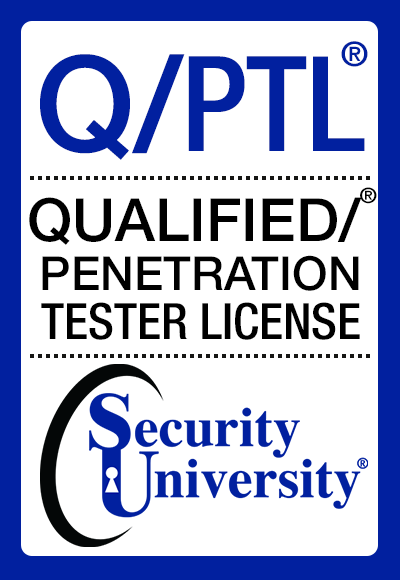 Q/ISP® Information Security Professional Certification
Q/EH ® Qualified/ Ethical Hacker Certification
Q/SA ® Qualified/ Security Analyst Pen Tester Certification
Q/PTL ® Qualified/ Penetration Tester License
Q/FE ® Qualified/ Forensic Expert Certification
Q/ND ® Qualified/ Network Defender Certification
Security University is the World Leader of Qualified Hands-On Computer Security Education, Certifications and Training for IT and Security Professionals in the world. No other Ethical Hacking, Security Analyst Pen Testing, Forensics, Network Defense and Software Security Expert certifications compete with SU's hands-on "tactical security skills" training".
Security University Q/ISP was Voted Best Professional Security Training Program Finalist by SC Magazine 2011 Awards.
Since 1999, Security University has led the way in providing hands-on certifications - Q/EH Qualified/ Ethical Hacking, Q/SA Qualified/ Security Analyst & Penetration Tester License, Q/PTL Qualified/ Forensic Expert & Examiners, and Qualified/ Software Security Expert certifications, classes & exams.
These Security University Qualified Programs, Q/ISP & Q/SSE, were born from IS professionals who need to prove they are "Qualified" for their jobs. Not all security certifications prove you are Qualified for the job - the Q/ISP & Q/SSE certifications are the only Performance-Based Security Credentials (awaiting NOCA-Accreditation). All 22 Performance-Based Security University classes have earned the Committee on National Security Systems (CNSS) 's highest (non-academic) approval in 2007.
Security University , World leader of Hands-On Computer Security Education, Certifications & Training. Voted Best Professional Security Training Programs. SU's Qualified Certs prove your "Qualified"!. SU's Q/ISP (InfoSecurity) Q/SSE ( Software Security) & Q/FE ( Forensics) cert's are the only performance-based CNSS Approved classes.
Legal Notice
Any person who is aware of any slanderous or libelous comments against Security University, or any comments about unlawful conduct by EC-Council® made by any person or company, is encouraged to immediately contact Security University at info@securityuniversity.net.