Security University Q/ISP®
Since 1999
Qualified/ Information Security Professional Certificate
Platinum Pass $8,475 or Platinum Pass+ $10,000
w/ CISSP® Prep Class & eStudy iPad program $10,600
Your answer: Be a Q/ISP Cybersecurity Graduate.
Utmost Competence, 4 hands-on cybersecurity classes + one workshop, 3 Practicals validates your information security skills.
You know you are getting great value when you can take advantage of the most Qualified training available with maximum flexibility and BIG savings. That is exactly what you will get with our 2014/15 savings plan: the Platinum Pass.
Even better, if you order your 2015 Platinum Pass by Dec 31, 2014 you can...
Take 4 Courses in 24 Months for Just $8,495!
or add the CISSP® Prep Class for $ 10,000
and add the eStudy iPad Program for $10,600
Take any of Security University's Q/ISP Qualified Certification classes. The SC Magazine's 2014"Best Professional Security Training Program".

The Platinum Pass provides you with a cost-effective, convenient way to satisfy your security training and certification needs while offering you maximum flexibility to meet your busy work schedule. With the Platinum Pass you have 2 full years to take any four Security University courses, now with a $1,100 savings on the regular price class. That is a savings of as much as 37% per course!

Learn more, and order your Platinum Pass online now. Master the tactical security skills you need to succeed, on your schedule with the all-new Platinum Pass or Platinum. Plus, it is the perfect savings pass to meet the four-course & workshop requirement for you Q/ISP® Qualified/ Information Security Professional Certificate & Q/PTL License Program.
Security University® is the Global provider of Q/ISP® Qualified/ Information Security Professional Certification. SU is striving to provide our students with the highest quality information security educational available through our Information Security and Information Assurance Training and Certifications for IT Security Professionals Worldwide.
Accredited by MSA- CESS®.
To enroll or order your Platinum Pass or Platinum Plus Pass, call 1-877-357-7744 today or visit our Web Site.
Save $8,000! on an Q/ISP IS Graduate Certificate
Q/EH® Qualified/ Ethical Hacker Certification
Q/EH Qualified/ Ethical Hacker class is SERIOUS TACTICAL hands-on security tools testing and hacking.
Hands-on Security Skills #1- 5 days of Ethical Hacking & Professional Security Tester process & methodology. You'll learn how security testing tools are used to scan, test & exploit systems from experts. Get "shell", crack passwords live! Penetrate & exploit live targets to own the box! of open source tools, hacker tips and tricks Q/EH Exam incl
Q/SA® Qualified/ Security Analyst Pen Tester Cert
Q/SA Qualified/ Security Analysis & Pen testing hands-down the best class available. SERIOUS TACTICAL hands-on Pen testing.
"The SU instructor was great! I had CEH™ and CHFI™ training elsewhere and I did receive a certification but I wish I had attended SU classes instead, I would have learned much more."
Americo
Hands-on Security Skills #2 5 days! Since 1999, the Best Pen Testing class, 90% hands-on labs. SU's Analysis & Pen Testing process & methodology is "the" step-by-step process to gather & analyze data & write the report. Discover & exploit vulnerabilities & privileges on multiple complex targets. "This class sets a new standard for IA Cyber security skills says "Army". Q/SA Exam incl & 3 hour practical .
Q/FE® Qualified/ Forensic Expert Certification
Federation of Qualified/ Forensic Experts & Examiners. The best Hands-on Forensic Certification Class!
Hands-on Security Skills #3 5 day Computer Forensic Expert. Basic to Adv. Live forensics. Locate, secure & collect computer evidence using tools & auto analysis utilities. The Q/FE process & methodology preserves digital evidence & prepares you to be an expert witness. 20+ Live Labs, live system analysis, hard drive forensics, FTK, EnCase, Forensic Acquisition Utilities, DD, HB Gary & image programs. Exam incl Q/FE License Practical - 3 reports on 2 different types of evidence for court.
Q/ND® Qualified/ Network Defender Certification
Hands-on Security Skills #4 Deep perimeter protection & analysis from threats. Manage malware & incidents while reducing risk. 90% Hands-on live labs - viruses, IDS & IPS 's. Network Defense Security Skills taught every day for max impact to harden network devices & defend internal external networks. Q/ND Practical required.
SU classes are CNSS-4011, 4012, 4013, 4015, 4016A approved
Q/ISP Program Maps 100% to 8570 IAT Level I, II, III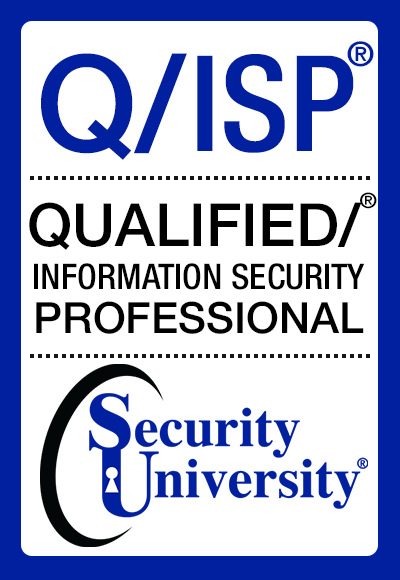 Q/ISP Certification, License Classes: