Herndon, VA
Security University -
Classroom Location:
510 Spring Street, Herndon, VA 20170 Suite 130
203.357.7744
Toll Free: 887.357.7744
Main Phone: +1.203.357.7744
Free Parking lot - Classroom is under the BlackBox / Digicom Sign

Training Location
Is conveniently located just five miles east of Dulles International Airport

Parking
Free parking is available

Arriving by Air
Dulles International Airport is just 5 miles away from Herndon and free transportation is provided by many area hotels. Reagan National Airport is approximately 20 miles from Herndon VA

Dulles International Airport - 5 miles
• Take the access road to Fairfax County Pkwy 7100 (286) Exit 11
• Go Left to first traffic Light - Spring street
• Spring street right - 3-4 traffic lights, right into 510 SPring Street. Look for BlackBox/ Digicom Signs First floor Suite 130

Reagan National Airport - approximately 20 miles
• Take George Washington Memorial Parkway North to I-495 South
• Take Exit 45 West, Route 267/Dulles Toll Road
• Take 267 to exit 11 Fairfax Country 7100 (286) Parkway.
• Turn right on Fairfax, go left at first traffic light Spring Street
• Bottom of exit, go right 3 traffic lights, to 510 Spring Street
• Go right into 510 Spring St Park anywhere
• Suite 130


Fairfax County Parkway
• From Fairfax County Parkway, take the Spring Street Left exit, right at traffic light. 3 traffic lights to 510 Spring Street Suite 130

Visit the Washington Metropolitan Area Transit Authority's Web site at www.wmata.com for bus schedules.
---
Recommended Hotels
Holiday Inn Express Herndon
485 Elden Street
Herndon, VA 20171
Tel: 703-478-9777
Fax: 703-471-4624

Login now and make your reservation!

http://www.hiherndon.com/lnr-1291394738.php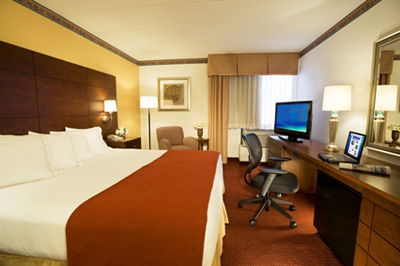 The Holiday Inn Express Reston/Herndon is a great hotel choice while you are at Security University for Computer Training! Located just around the corner from Security University in The Holiday Inn Express Reston/Herndon is proud to offer complementary shuttle service. We have all of the essential business amenities that will make sure your time here training is a s enjoyable as possible!
We Offer:

FREE Transportation to and from Security University as well as Dulles Airport
24 hour business center that includes a computers with free high speed internet access, a copier, a printer, and a fax machine.
Free Wired high speed internet access in all of our guest rooms
Free wireless high speed internet access through out the hotel
Each guest room come equipped with a 32" HD television set as well as a refrigerator
24 hour fitness center with the latest exercise equipment
Indoor heated pool
We know how important breakfast is so we offer our guests a deluxe continental breakfast featuring our famous Cinnamon Rolls! We want our guests who are training to have as enjoyable time as possible so in addition to complementary transportation to and from Security University we are also extending some great rates!

Corporate Rate:
$139.00 for 1-6 nights stay
$119.00 for 7-14 nights stay
$99 for 15+ nights stay
For a 1-6 night stay, pleas make your reservations online by Clicking Here!

For reservations of 7 or more nights, please contact Laura Bryant at (301) 803-0351.
---

Sheraton Reston Hotel Welcomes Security University!

We are perfectly situated in the midst of everything northern Virginia and Washington D.C. has to offer. Sheraton Reston Hotel provides a complimentary shuttle service to and from Dulles International Airport, approximately 5 minuets from Security University classroom across the Dulles Toll Rd.
20 minutes from downtown Washington D.C., and minutes away from shopping and entertainment!

Gather together over a variety of menus and seasonal specials at one of our flavorful restaurants, Syrah and the Cosmopolitan Lounge. Play a round of golf in your spare time on the adjacent Reston National Golf Course, explore the quaint Reston Town Center and Tyson's Corner Mall, or relax by the pool.

Book the Security University Rate Online Today Special Code SECUNIV08
Get the best rates and a comfortable stay with Sheraton.

www. sheratonreston .com/
The Sheraton Reston Hotel is the ideal hotel in Reston, located near Dulles International Airport and Washington DC.
11810 Sunrise Valley Drive
Reston, VA 20191
(703) 620-9000 All of our comfortable guest rooms offer the generous comforts you enjoy at home. The ultra-comfortable Sheraton Sweet Sleeper(SM) Bed is sure to offer a great night's sleep.
Free airport transportation, outdoor pool, fitness center, and business center services will make you feel like it's your home away from home.
Every aspect of our hotel was designed with you in mind with special rates that are available only to Security University guests and employees.
Book your special rate of $159 online today! Book NOW
For stays between 1-6 days $ 159 Single or Double Occupancy*
For stays between 7-14 days $ 139 Single or Double Occupancy*
For stays between 15-29 days $ 119 Single or Double Occupancy*
For stays between 30+ days $ 99 Single or Double Occupancy*

Friday and Saturday Rate: $89. This rate is only valid for Friday and Saturday