ISSEP® Information Systems Security Engineering Professional

Getting ISSEP certified with Security University shows your Qualified.

During our 5-day Official Information Systems Security Engineering Professional (ISSEP) training, students will live, learn, and take the exams at one of our state-of-the-art education centers. This blended-learning course employs outcome-based (Lecture | Lab) delivery that focuses on preparing you with the real-world skills required to pass the certification exams (and to hit the ground running in your career). The ISSEP Certification Program focuses on the technical knowledge required of government information systems security engineers such as ISSE processes and government regulations

Instructor Led class + VIDEO ISSEP Training on iPad $3,4,95 includes 5 day class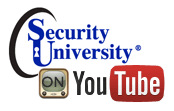 Domain 1


Domain 2


Domain 3


Domain 4

View our ISSEP Training videos on our YouTube Channel:
http://www.youtube.com/SecUniv

What's Included in the SU ISSEP® - 4 Day Bootcamp?
We send you the Official SU Guide to the ISSEP study tools as soon as you register for class.
All Student's will receive the following:
Four full days of the top SU ISSEP® training in the industry
Instruction by a highly Qualified security expert
SU ISSEP® Courseware developed & updated on a continual basis to map to the current ISSEP® exam objectives
The Official SU ISC2 Study Guide to the CISSP-ISSEP eStudy book - sent out upon registration
SU Practice Questions & Quizzes
Full practice test
Opportunity to come back to attend another SU ISSEP® bootcamp up to one year

*All ISSEP training sessions are taught by a certified ISSEP.
Method of Delivery - Residential On Ground
Method of Evaluation: 1. 95 % attendance 2. 100 % completion of Lab
Grading: Pass = 95% Attendance and 100% Completion of Labs and Practical
Fail => 95% Attendance and > 100% Completion of Labs and Practical

Steps to ISSEP® Certification
Register for a Test Pass Academy ISSEP (4) Day Bootcamp

Read over the ISSEP Prep Book before class

Register / Pay for the ISSEP exam

Attend all (4) days of training

Take the ISSEP exam shortly after the end of training

Pass the ISSEP exam!!

ISSEP Exam Prep Daily Schedule
Day 1 - Domain 4: U.S. Government Information Assurance Regulations
Day 2 - Domain 1: Systems Security Engineering
Day 3 - Domain 2: Certification & Accreditation
Day 4 - Domain 3: Technical Management
Module A Systems Security Engineering
Topics
Upon completion of this module, the ISSEP candidate will be able to employ Information Assurance Technical Framework (IATF) processes to discover users' information protection needs and design systems that will effectively and efficiently address those needs. In addition, the ISSEP candidate will understand the concepts of defense in depth, risk assessment, and the systems lifecycle.
Module B Technical Management
Topics
Upon completion of this module, the ISSEP candidate will be able to describe system development models and relate security tasks to these models.
Module C Certification and Accreditation
Topics
Upon completion of this module, the ISSEP candidate will be able to identify, understand, and implement the Certification and Accreditation (C+A) processes.
Module D United States Government Information Assurance (IA) Regulations
Topics
Upon completion of this module, the ISSEP candidate will be able to identify, understand and apply the practices as defined by the United States Government Information Assurance regulations.
Exam
Exam ISSEP certification
Prerequisites for the ISSEP from (ISC)2®
To take the ISSEP exam you must have a valid CISSP certification