Reston, VA
Security University - Classroom Location:
12001 Sunrise Valley Dr, Suite 203, Reston, VA 20191
Main Phone: 203-249-8364
Toll Free: 887.357.7744


Training Location -Is conveniently located just five miles east of Dulles International Airport

Parking
Free parking is available
---
Recommended Hotels
The Marriott Courtyard Inn Reston - Herndon
The Courtyard Reston/Herndon, SpringHill Suites Reston/Herndon and the Washington Dulles Airport Marriott will offer Security University the following discounted non-last room availability rates:
Courtyard Herndon Reston
533 Herndon Parkway Herndon Virginia 20170
Standard Room (king or room with 2 beds, complimentary high speed internet, parking and shuttle to airport)
1-6 continuous nights $149 per night + taxes
7-14 continuous nights $129 per night + taxes
15+ continuous nights $119 per night + taxes
Springhill Suites Reston - Herndon
138 Spring Street Herndon Virginia 20170
Suite with king or 2 double beds, complimentary breakfast, high speed internet, parking and shuttle to airport)
1-6 continuous nights $139 per night + taxes
7+ continuous nights $129 per night + taxes
Washington Dulles - Reston - Herndon
45020 Aviation Drive Dulles Virginia 20166
Standard room with king or two beds, complimentary parking and shuttle to airport)
1-5 continuous nights $109 per night + taxes
6+ continuous nights $89 per night + taxes


---
Holiday Inn Express Herndon
485 Elden Street
Herndon, VA 20171
Tel: 703-478-9777
Fax: 703-471-4624

Login now and make your reservation!

http://www.hiherndon.com/lnr-1291394738.php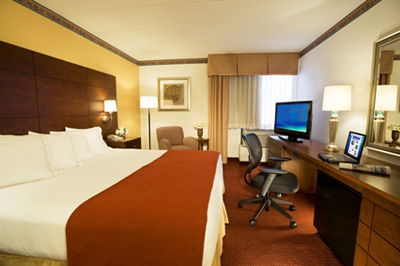 The Holiday Inn Express Reston/Herndon is a great hotel choice while you are at Security University for Computer Training! Located just around the corner from Security University in The Holiday Inn Express Reston/Herndon is proud to offer complementary shuttle service. We have all of the essential business amenities that will make sure your time here training is a s enjoyable as possible!
We Offer:

FREE Transportation to and from Security University as well as Dulles Airport
24 hour business center that includes a computers with free high speed internet access, a copier, a printer, and a fax machine.
Free Wired high speed internet access in all of our guest rooms
Free wireless high speed internet access through out the hotel
Each guest room come equipped with a 32" HD television set as well as a refrigerator
24 hour fitness center with the latest exercise equipment
Indoor heated pool
We know how important breakfast is so we offer our guests a deluxe continental breakfast featuring our famous Cinnamon Rolls! We want our guests who are training to have as enjoyable time as possible so in addition to complementary transportation to and from Security University we are also extending some great rates!

Corporate Rate:
$139.00 for 1-6 nights stay
$119.00 for 7-14 nights stay
$99 for 15+ nights stay
For a 1-6 night stay, pleas make your reservations online by Clicking Here!

For reservations of 7 or more nights, please contact Laura Bryant at (301) 803-0351.
---
Sheraton Reston Hotel Welcomes Security University!

We are perfectly situated in the midst of everything northern Virginia and Washington D.C. has to offer. Sheraton Reston Hotel provides a complimentary shuttle service to and from Dulles International Airport, approximately 5 minuets from Security University classroom across the Dulles Toll Rd.
20 minutes from downtown Washington D.C., and minutes away from shopping and entertainment!
Gather together over a variety of menus and seasonal specials at one of our flavorful restaurants, Syrah and the Cosmopolitan Lounge. Play a round of golf in your spare time on the adjacent Reston National Golf Course, explore the quaint Reston Town Center and Tyson's Corner Mall, or relax by the pool.
Book the Security University Rate Online Today Special Code SECUNIV08
Get the best rates and a comfortable stay with Sheraton.

www. sheratonreston .com/
The Sheraton Reston Hotel is the ideal hotel in Reston, located near Dulles International Airport and Washington DC.
11810 Sunrise Valley Drive
Reston, VA 20191
(703) 620-9000 All of our comfortable guest rooms offer the generous comforts you enjoy at home. The ultra-comfortable Sheraton Sweet Sleeper(SM) Bed is sure to offer a great night's sleep.
Free airport transportation, outdoor pool, fitness center, and business center services will make you feel like it's your home away from home.
Every aspect of our hotel was designed with you in mind with special rates that are available only to Security University guests and employees.
Book your special rate of $159 online today! Book NOW
For stays between 1-6 days $ 159 Single or Double Occupancy*
For stays between 7-14 days $ 139 Single or Double Occupancy*
For stays between 15-29 days $ 119 Single or Double Occupancy*
For stays between 30+ days $ 99 Single or Double Occupancy*
Friday and Saturday Rate: $89. This rate is only valid for Friday and Saturday
---

Candlewood Suites
Security University has established Special SU rates at Candlewood suites. Please call the hotel and tell them you want the SU rates!

Tel: 703-793-7100

1-6 night rate is $139.00
7 night rate is $119.00
15 night rate is $99.00
30 night rate is $69.00


WASHINGTON-DULLES HERNDON
13845 SUNRISE VALLEY DRIVE
HERNDON, VA 20171 UNITED STATES
Tel: 703-793-7100
Fax: 703-793-7111

Our Suites
One look at our spacious studio, one-bedroom and studio double suites* and you will realize the Candlewood Suites difference. Everything from an executive desk to home entertainment helps guests work smart and relax. This is life on the road at its best.

Our Signature Amenities Include:
FREE high speed internet access
Large comfortable recliner
Capacious work area with two phone lines and voice mail
FULLY EQUIPPED kitchens
FREE local phone calls
FREE on-site guest laundry….24 hour access
Fitness center on first-floor level….24 hour access
FREE video/DVD/CD library
Secure interior corridors
Candlewood Cupboard convenience store Mw/snacks, dinners, $.50 sodas
Summertime gazebo grill (May- September)
Studio Suite
One-Bedroom Suite
---
The following hotels are located close to the Security University Education Center and offer special rates:
Hyatt Regency Hotel
1800 Presidents Street
Reston, VA 20190
Tel: 703-709-1234
Fax: 703-709-6244
www.reston.hyatt.com and enter 95881 under "Group/Corporate #".

Staybridge Suites
13700 Coppermine Road
Herndon, VA 20171
Tel: 703-713-6800
www.staybridge.com
Residence Inn
315 Elden Street
Herndon, VA 22070
Tel: 703-435-0044
Toll-Free: 800-238-8000
www.marriott.com
Holiday Inn Express
485 Elden Street
Herndon, VA 22070
Tel: 703-478-9777
Toll Free: 888-465-4329
www.ichotelsgroup.com
All of these hotels provide complimentary shuttle service to and from Security Univiersity.
To obtain special rates when making hotel reservations, please call at least two weeks in advance.
---
Great savings from Homestead Hotels
Homestead Studio Suites-Reston offers SU special negotiated rates with more features and amenities than a traditional hotel.
Room Amenities –HSD offers a fully-equipped kitchen comprised of a full size refrigerator/freezer, two burner stove, microwave, utensils, dishes, cutlery, coffee maker, toaster, full-size ironing board and iron, personalized voice mail.
Business Class Features – Oversized workspace, free local phone calls and faxes
On site Laundry – Open 24 hours. Coin operated
High Speed Wireless Internet Access - $4.99 per stay
Housekeeping Service – Our normal pattern for Housekeeping Service is once a week for guests staying 5 nights or more.
Free OFF Site Fitness Pass - We offer free Passes to YMCA for the entire stay
Pet Friendly rooms available

Rates: Please ask for Security University Rate
1 -6 Nights: $110.00
7-14 Nights: $94.00
15-29 Nights $ 79.00
30+ Nights: $64.00

Weekend Rates - $69.99!!
Hotel Info

Homestead Studio Suites-Reston
12190 Sunset Hills Road
Reston, VA 20190
Tel: 703-707-9700
Fax: 703-707-9786
Email: res@extendedstay.com
www.extendedstayhotels.com