Q/PTL® Qualified/ Security Analyst Penetration Tester Workshop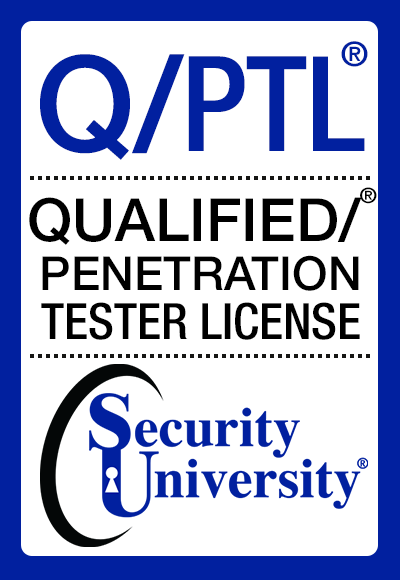 The Most Prestigious Qualification for Penetration Testing Professionals
We wrote the book on Penetration Testing. 9 years ago SU started training security professionals with the very best penetration step by step methodology class, and 35+ labs later we still lead. Security University's Q/SA® class is only CNSS-approved Security Analyst Penetration Tester class.
Now you can take the same Penetration Testing Methodology class that the US Air Force, Army, Navy and Marines trained to defend military networks. Your classes are taught by SSME (Security Subject Matter Experts) in the "Art of Penetration Testing & Hacking". You'll gain serious tactical security skills that will set you apart from your peers.
"Yes. Pls quote me. The instructor was great, he was very knowledgeable. I had CEH™ and CHFI™ training from another vendor and I did receive certification but I wish I had attended your classes instead, I would have learned much more." Americo
"This is an excellent the instructor is a very knowledgeable and I feel that Iam leaving this course a much better Security Specialist. Wilson DHS"
We want you to succeed. SU has a 99% pass rate. Because we are dedicated to our students we constantly add new and improved tools and labs to our courses. We search out the latest and greatest hacking and penetration testing tools for you to expand your tactical hacking and penetration testing skills.

Security University's Q/PTL® Qualified Penetration Tester class is a natural evolution to the Q/EH® Qualified Ethical Hacker and Q/SA Qualified Security Analyst Penetration Tester classes. The highest level of achievement in your Q/ISP Qualified Information Security Professional Certifications. The Qualified Penetration Tester Licensed standardizes the knowledge base for penetration testing professionals by incorporating the best practices followed by experts in the security & audit assessment and penetration testing field.
Security University is the only provider to give you 3 hr nightly labs for your Q/PTL training with an exceptional exam lab that proves your a Qualified Penetration Tester. You can apply for a LPT or earn your Q/PT License. No other company demands more from you. No application fee - earn your Q/PTL today!
The Q/ISP Certification does not require you to complete Q/ISP hands-on classes - however to "validate" your security skills and use the "Qualified" symbol as your trust mark, you will be asked to complete the Q/PTL workshop, the Q/FE & Q/ND practical's that validate your tactical security skills.
Q/ISP Certification is obtained through Security University for the purpose of recognizing qualified individuals who have distinguished themselves as knowledgeable, skilled and proficient information security practitioners with validated hands-on tactical security skills. The Q/ISP certificate also provides the ONLY means of identifying qualified security professionals who subscribe to a rigorous requirement for maintaining their knowledge and proficiency in information security with "validated" hands-on tactical security skills.
Certification is awarded to those qualified individuals who validate their security skills to a prescribed qualified level of tactical hands-on information security experience, comply with a professional code of ethics, and pass rigorous examinations on the Q/ISP Body of Knowledge for information security.
Keeping your Q/ISP Valid
In order to maintain currency in the field, each Q/ISP must complete participation in research or study, attendance at recognized subject-matter training and professional educational programs, presentation or publication of information security papers, contributions to the information security Q/ISP Body of Knowledge, or service in professional organizations. Each Q/ISP must acquire 216 CPE continuing professional education credits every three years. (72 credits per year)
In order to use a Qualified Q/ISP Trustmark the Q/ISP has validated their tactical security skills by completing the Tactical Security Certification Practical's from the Q/PTL, Q/FE & Q/ND classes.
Qualified Training for Qualified Results!
Class Fee
$2,995 or $1500 w Q/SA registration
Time:
4pm -9 pm
Location:
Click here to view the class schedule
Prerequisites:
Understanding of TCP/IP protocols
CPE Credits:
30
Instructor:
Highly qualified instructor with
CEH™ Q/EH , ECSA™ Q/SA
Method of Delivery - Residential On Ground
Method of Evaluation: 1. 95 % attendance 2. 100 % completion of Lab
Grading: Pass = 95% Attendance and 100% Completion of Labs and Practical
Fail => 95% Attendance and > 100% Completion of Labs and Practical
Qualified Penetration Tester Licensed
Objective of a Qualified Penetration Tester is to ensure that each professional follow a step by step methodology and a strict code of value and processes to prepare the most precise and comprehensive assessment & report. You'll learn best practices and compliance requirements required by the industry and more, what you need to keep your infrastructure secure.
Unlike a normal security certification, the licensed penetration tester is a program which trains security professionals to analyze the security posture of a network exhaustively and recommend corrective measures authoritatively.
Requirements
Achieve Certified Ethical Hacker (CEH™) Prep from Security University or Qualified Ethical Hacker Q/EH®.
Achieve ECSA™ Security Analyst certification from Security University or Qualified Security Analyst Q/SA
Complete Q/PTL Training Criteria:

Fill out Q/PTL Application form from Security University.
Documentation on criminal background check, classified status, or an authentication from an investigation agency absolving a criminal history.
Resume with detailed professional experience, previous certification /certificates and references for verification to be submitted.
Agree to Code of Ethics.
Attend Q/PTL workshop
Security University Q/PTL Qualified Benefits
Endorsement as a Qualified penetration testing professional and allows them to practice as penetration testing consultant internationally.
Industry acceptance as a legal and "Qualified" ethical security professional
Access to proprietary Security University templates and penetration testing methodologies.
Acquire knowledge from experienced hands-on penetration testing methodologies and latest penetration testing practices.
QPTL® Training

A professional qualification is used as a measurement of tactical security penetration testing skills.The duration for the Q/PTL training program is a total of three days and a half day for the exam. All of the Q/PTL courses come with high quality supporting documentation and experts to assist you with what you need to know to prove your "Qualified".

Frequently Asked Questions

1. Why should I be licensed?

Penetration testers today need a Qualified body to prove their tactical security and penetration skills. A Qualified body that follow a code of ethics and can be trusted. The Qualified Penetration Tester Licensed program offered by Security University gives "Qualified" penetration testers the opportunity to practice their skills so that they are able to function as a Qualified Penetration Tester. Security University is different than EC-Council licensed penetration testers. Security University uses tactical security hands on penetration testing methodologies that are tried and tested. Created by the SSME's and you are trained by experts and specialists who are"Qualified" penetration testers from Security University.

2. I am a Penetration Tester why should I have a Qualified Penetration Tester License?

Corporate organizations today are looking for"Qualified" penetration testers who analyze vulnerabilities and can be trusted not to disclose network or system vulnerabilities. Companies should look for a "Qualified" Penetration Tester Logo. This Qualified company and individual logo prove the individual & company are highly qualified experienced penetration tester professionals

3. What is the difference between a Qualified Penetration Tester and a Qualified Ethical Hacker?

A Qualified Ethical Hacker is an individual who has trained and mastered tactical hacking technologies. A Qualified Penetration Tester is a Qualified security professional who has proven their tactical security & penetration testing skills.

4. How is Security University's Qualified Penetration Testing course different from other training and methodologies?

The Qualified Penetration Testing License course is taught by SSME (Security Subject Matter Experts) who are experts in tactical security and Penetration testing and are qualified and licensed penetration testers themselves. Security University "Qualified" penetration testers have the competitive edge in the information security market.

6. I have experience in Penetration Testing can I skip the Q/PTL workshop?

If you can provide a security assessment that meets or exceeds what is required to "prove" your qualified penetration testing skills, you do not have to take the Q/PTL workshop.

There are no Q/PTL exams

7. How do I apply for the Licensed Penetration Tester course?

Any Q/SA attendee can attend the Qualified Penetration Testing License course at the same time as the Qualified Security Analyst and Penetration Tester class. You can fill out the application during class. The candidate should also provide a proof of no criminal activity for authentication. The candidate must agree to the Security University code of ethics.

8. How long is the Qualified Penetration Testers License valid?

The Q/PTL Qualified Penetration Tester License never expires.

The LPT certification is provided exclusively by EC-Council® and its ATC's, Security University is not sponsored by, approved by, or affiliated in any way with EC-Council®.